Bacal & Associates Company Info
About Us
Bacal & Associates was founded in 1992 in Winnipeg, Manitoba, Canada, by Robert Bacal, with the intent of offering training and consulting services primarily to government clients. We are now located near Ottawa, in Ontario, Canada.
After working in the Manitoba Civil Service, Robert decided there was both a need and a market for a company that served government's need for training and consulting, in customer service, planning, team building, conflict management and a number of other topics.
Along the road Robert was offered the opportunity to publish with McGraw-Hill and since then his books have sold over 400,000 copies and been translated into multiple languages.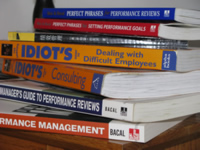 Just some of the books Robert Bacal has written and published, primary via McGraw-Hill.
Over the years, our philosophy has shifted to being more than a "training" company, and more of a "learning solutions" company. So in addition to offering seminars, keynotes, and face to face learning experiences, Bacal & Associates also
publishes original material, much of which is directly relevant to governments and their employees
. Multiple websites have been developed on specific target topics, providing, by and large, free material for learning
.For a detailed biography of CEO, Robert Bacal, click here.