Learn What To Do If You Get A Poor Or Negative Performance Review
The Most Common Question Employees Have About Their Annual Review?
Purchase and Download NOW! ($9.95 or less)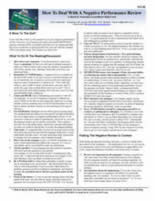 The most asked questions employees have about their performance evaluations is:
What do I do if I get a poor or disappointing performance review?
In our newest addition to our performance management and appraisal LearnBytes Series (2013), we walk you through what you should do, and your variou options if you receive a negative review, or one that you are disappointed in.
How you handle these difficult situations, which often feel like receiving a kick to the stomach, can have an immense impact on your current job, and even on your entire career.
So, we've pulled together a LearnBytes Mini-Guide to help.
You'll learn:
How to keep a negative review in perspective and context.
Your options in terms of appealing, or other actions you can take.
How to conduct yourself during the review meeting.
What NEVER to say during the review meeting - the things that will totally sink your job future.
The questions you need to ask both during and after the meeting.
...and more.
LearnBytes are meant to be portable, and usable wherever you are. We recommend you keep a copy on your phone or tablet so you can consult it before each and every review. It's your career, so make sure you are prepared for disappointing comments.